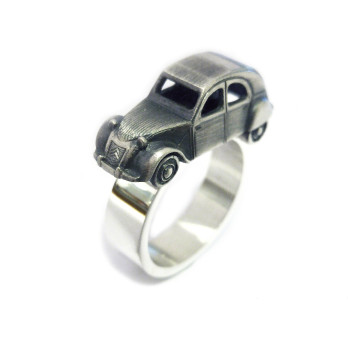 Unique Citröen 2CV ring handmade in 925 sterling silver. An ideal gift for the classic car enthusiast or owner. Make a statement by showing the car you love! Are you or is someone you know a 2CV enthusiast or member of a 2CV owners club? They will love a one of these!
You will not find any other 2CV jewellery as detailed and refined as these. They were designed and made with great love and careful attention to detail.
Ring band width: 6mm. Car size: length 22mm, width 8mm, height 7mm. The ring can be ordered in 19 different sizes from 15 to 24 (EU). The ring was designed and made by a Finnish master goldsmith and is legally hallmarked.
NOTE that the ring is made to order and will take 1-2 weeks to be dispatched.