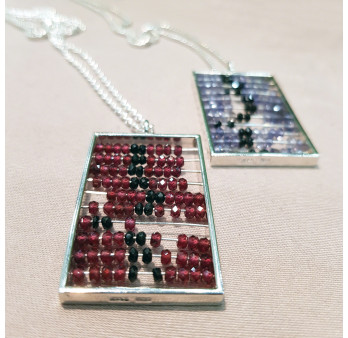 Unlike other abacus jewellery which use metal counters, these beautiful Abacus pendants come in a choice of coloured gemstones: blue iolite, red garnet, or green jade. Your choice of coloured gemstone is partnered wonderfully with black spinel gems, and the frame and wires are 925 sterling silver. 
The Abacus pendant includes a 70cm sterling silver chain.
The Abacus pendant would be an ideal piece of jewellery for a mathematically or science minded individual. Maths teachers, for example, adore these pendants!
All Abacus pendants are handmade in Finland to the highest quality and are Finnish hallmarked.