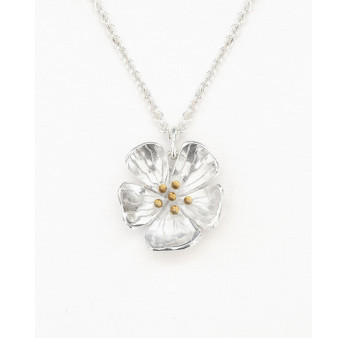 Hilla jewellery lets you carry the beauty of Lapland with you.
The hilla flower, which in Finland blossoms in June, is white, about 2-3 cm in size, and usually displays 5-6 petals. The name of the plant varies from region to region, so that in Eastern Finland it is known traditionally as 'lakka' and 'hilla' in Northern Finland. In English it is commonly known as cloudberry. 
Our Hilla pendant enshrines the peaceful nature and beauty of Lapland. It is made from 925 sterling silver with gleaming gilded stamens and is 20mm in diameter. 
The Hilla pendant includes a 45cm sterling silver chain.
Hilla pendants are designed and handmade by a Finnish master goldsmith to the highest quality and are Finnish hallmarked.
Make sure you also check our shop for our matching Hilla earrings and Hilla ring.