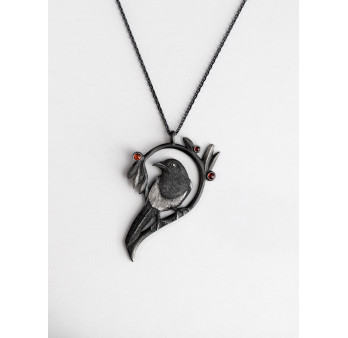 One for sorrow,
Two for joy,
Three for a girl,
Four for a boy,
Five for silver,
Six for gold,
Seven for a secret never to be told.
Our witty Magpie pendant features a beautifully detailed magpie proudly posing on a branch. The magpie and branch are 925 sterling silver with round cut garnets adorning the branch. Part of the bird is patinated. The pendant includes a matching darkened silver chain. Worn casually or formally, this attractive silver pendant is sure to invite compliments. 
All Magpie pendants are handmade in Finland to the highest quality and are Finnish hallmarked. The pendant height is 50mm, width 34mm. The length of the silver chain is 45cm.
Make sure you also check our shop for our Magpie brooch.