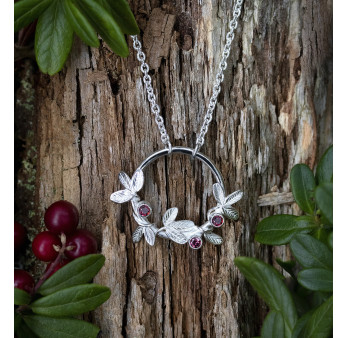 Lingonberry is a tundra shrub which produces generous amounts of small red berries throughout Lapland. The berries are collected and used to accompany a variety of food dishes.
Our Lingonberry pendant reproduces the shrub's small delicate leaves and bright red berries. Made from 925 sterling silver, the pendant comprised a ring entwined with Lingonberry leaves, with berries represented by red garnets. The pendant measures 23mm in diameter, with stones of 2.7mm . The chain is adjustable for fixed lengths of 42cm and 45cm.
All garnets are sourced from the Lemmenjoki and Miessijoki areas of Lapland.
Lingonberry pendants are designed and handmade by a Finnish master goldsmith to the highest quality and are Finnish hallmarked.
Take the beauty of Lapland with you.
Make sure you also check our shop for our matching Lingonberry earrings.